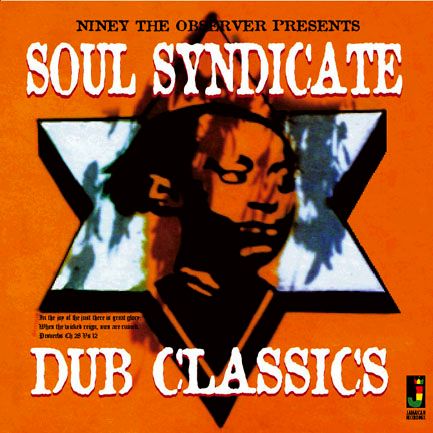 Reggae music in many ways reminds us of America's Motown records.The music comes
out of its stable fast and furious we tend to know the songs, the artists, the studio but who ?
are the players.The unsung hero's that in many cases, cut most of our favourite tracks
One such band this applies to in the Reggae field is the Soul Syndicate Band.

Each Jamaican record producer would have their favourite set of musicians they would
use, availability permitting. Although several musicians crossed over into different named
bands. For example a set of players working with Producer Bunny 'Striker' Lee would go
under the guise of The Aggrovators .The same group working with Producer Joe Gibbs
would work under the name The Professionals. Soul Syndicate were the band of choice
for Producer Niney the Observer, who used them for his own recordings and when you
put that aside the other artists Niney produced,Dennis Brown, Max Romeo, Michael Rose,
I Roy,The Ethiopians, Barry Brown, Gregory Issacs and Freddie McGregor. To name a few
and not necessary all, you begin to see the amount of material this set of musicians played on.

Built around the rhythm section of Calton 'Santa' Davis and George 'Fully' Fullwood, drums
and bass respectfully. They were usually accompanied by Earl 'Chinna' Smith,Tony Chin
on guitars, Keith Sterling, Gladstone 'Gladdy' Anderstone, Bernard 'Touter' Harvey, organ
/ keyboards and Noel 'Skully' Simms, percussion. Niney's tracks tended to be rhythm heavy
and thus Sound System favourites.But when brass was needed / called for ,this was provided
by the likes of Tommy McCook, Bobby Ellis, Felix ' Deadley Headley' Bennett. Niney not having
a studio of his own at the time used most of Kingston's studios, again availability and money
providing. But most of these cuts selected for this release were cut at Channel 1 and a few
exceptions at Randy's Studio 17 and at Joe Gibbs studio at Burns Avenue.

Niney also worked closely with King Tubby on his dub plates, so tracks after the recording
sessions were taken to King Tubbys for reconstruction and sometimes re-voicing over an
existing rhythm.These were then used as version sides to the vocal cuts,but most importantly
used to nice up the dances, being played out on King Tubbys Home Town Hi - Fi Sound
System.We have pulled together a selection of such dub plate specials cut by the Soul
Syndicate band for this release. Dub sides that emphasise how well the band worked
together, and with Niney at the reigns and the added bonus of some Tubby magic sprinkled
on top. Please see our Niney the Observer at King Tubbys 1973 - 1975 [JRO11] for
further examples of this work.

We at Jamaican Recordings hope we are not alone in saluting the musicians, that played
such a big part in producing many of our favourite Reggae Sounds. Having released titles
by The Revolutionaries [JR003], The Aggrovators [JR005], Sly and Robbie [JR006], we are
now pleased to release a selection of rare Dub cuts by another one of Jamaica's finest, the
Soul Syndicate band to our catalogue...

Respect Jah Floyd.
CD Track Listing

1. FITTEST OF THE DUB FITTEST.

Barry Browns dubbed vocal can be heard over this heavy rhythm,
the vocal version being Barry's 'Fittest of the Fittest '.

2. DUB IN HEAVEN.

A King Tubby Sound System Dub favourite.Working over
Horace Andy's 'You are my Angel' rhythm.

3. RUFF GAL DUB.

The 'Ruff Girl' rhythm gets the dub treatment.

4. NINEY'S DUB CROWN.

Niney licked this rhythm and afterwards King Tubby took a cut and put Augustus Pablo and
Johnny Clarke on it. King Tubbys national anthem, Augustus later cut it as '555 Crown Street'.
This is the first version nice....

5. RASTA MAN IN DUB.

Cut at Randy's Studio 17,King Tubby worked it into a dub special...

6. DUB CHAPTER.

An unreleased dub to the 'Ten to One' rhythm cut at Channel 1.

7. A DUB REVIVAL.

Augustus Pablo and Glen Brown cut on this Niney rhythm which
was a version of the 'Swing Easy' rhythm.

8. THE KING & THE OBSERVER IN DUB.

King Tubby and Niney worked this Soul Syndicate rhythm together
to produce this rockers style dub....

9. DUB 100.

The Stars rhythm made famous by Mr Cornell Campbell, gets worked on by Niney.
Another Randy's Studio 17 Classic!!!!

10. RUNAWAY DUB.

The Runaway rhythm dubbed up again by Mr Tubby, for his Sound System...

11. DUB IN PARABLES.

Santa.. biblical.. mouth organ lead,phased dub.. sounds great.

12. OBSERVERS DUB.

This organ lead rhythm cut a Studio 17 by Niney, would be
the base of many version that followed... Here in it's original form.

13. A DUB CLASSIC.

A haunting rhythm put down at Studio 17. Great organ fills... timless...

14. DUB A LONG.

A Lee Perry/Bob Marley original reworked by Niney, in Observer style. Again cut at Randy's Studio 17...

Vinyl Track Listing


Side 1
1. FITTEST OF THE DUB FITTEST.
2. DUB IN HEAVEN.
3. RUFF GAL DUB.
4. NINEY'S DUB CROWN.
5. RASTA MAN IN DUB.
6. DUB CHAPTER.
7. A DUB REVIVAL.


Side 2

1. THE KING & THE OBSERVER IN DUB.
2. DUB 100.
3. RUNAWAY DUB.
4. DUB IN PARABLES.
5. OBSERVERS DUB.
6. A DUB CLASSIC.
7. DUB A LONG.

Musicians Include:
Soul Syndicate musicians include:
Carlton 'Santa ' Davis: Drums
George ' Fully ' Fullwood: Bass
Earl ' Chinna ' Smith,Tony Chin: Lead Guitar
Keith Sterling, Gladstone 'Gladdy ' Anderson
Bernard ' Touter ' Harvey: Keyboards
Noel ' Skully ' Simms: Percussion
Felix ' Deadley Headley ' Bennett: Saxophone

Recorded at: Channel 1, Randy's Studio17,
Joe Gibbs Studio Burns Avenue and King Tubbys
Produced by: Niney the Observer.
Design by: Gary Hall at Voodoo London.
Manufactured under Licence from Winston Holness.
Made in the U.K.