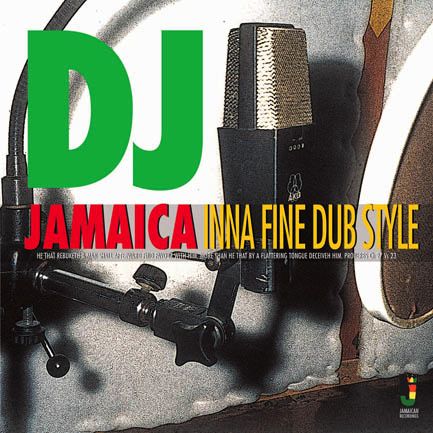 One of the two great chapters in reggaes history was the DJ phenomenon that conquered
the Sound Systems in and around Kingston town in those heady 1970's, the other was the
dub plates specials that allowed the DJ's to explore a tune in the first place. Giving some
fine question and answers to its original vocal, emphasising its meaning or taking it into
another subject matter altogether. When you have these two styles and add to it that
original vocal, dubbed in at various points you get a fantastic melting pot that lifts a tune
and can take it almost anywhere it likes.

Although DJ's were operating in Jamaica in the 1950's and 1960's with the likes of Count
Matchuki and Sir Lord Comic, their role was that of mainly selector with a few vocal
embellishments to instrumental tracks to gee up the crowd. 1969 saw the art form broaden
with the likes of DJ King Stitt (Winston Spark) who scored a couple of hits for producer
Clancy Eccles with 'Fire Corner' and 'Herbsman Shuffle'. But it was Clancy Eccles next
releases with a certain U Roy (Ewart Beckfort) in the same year that saw the style explode.

When hearing the DJ holding the crowds attention on King Tubby's Home Town Hi - Fi
Sound System, the producer rushed the DJ into the studio and cut 'Wake the Town' and
'Rule The Nation'. Which would top the Jamaican charts in the soon to follow 1970.

In true Jamaican musical style when a new sound hits on the radio waves, many would
soon follow. With an abundance of already tried and tested hits, producers would get the
new toasters of which there were many and revamp and breath new life into their back
catalogues.

But what makes this set of cuts, chosen for this release that little bit more interesting, are
the working of the dub plates and effects alongside thesevocal talents.
Adding another layer to this musical cake.

A fine selection of tunes worked over by the cream of the 1970's DJ circuit.U Roy, I Roy.
Jah Stitch, U Brown, Dillinger, Prince Jazzbo, Dennis Alcapone and the vastly underrated
Shorty the President alongside some classic King Tubby dubs surely a match made in
heaven...Hope you enjoy ride.......
CD Track Listing

1. RUB-A-DUB STYLE - SHORTY THE PRESIDENT

First of a few cuts by an underrated DJ with 'Rub a Dub' style we see. Shorty do his thing
over the great Ronnie Davis' version of the 'Don't Rock My Boat' rhythm.

2. GORGON STYLE - U ROY

The original Mr U Roy who's sparring-partner here is Cornell Campbell working his
'I'm the Gorgon'...a classic.

3. GREEDY GIRL - JAH STITCH

Mr Stitch rides with Horace Andy's 'Greedy Girl' but the dub takes it to another place...

4. BABYLON DUB - DILLINGER

Johnny Clarke's 'Babylon Yard' gets dubbed over with a little help from Dillinger.

5. DUB DUNZA - U BROWN

Another Johnny Clarke classic 'Blood Dunza' meets with Mr U Brown and taken
on a dub excursion

6. STICK BY DUB - DENNIS ALCAPONE

The familiar hollow and bawls from DJ Dennis Alcapone works John Holt's 'Stick By Me'.

7. DUB TO THE LONELY - PRINCE JAZZBO

Johnny Clarke's 'I'll Be Lonely' gets a new lease of life with Prince Jazzbo discussing
over that great rolling bass line and rockers style drums.

8. CONTROL DUB - SHORTY THE PRESIDENT

Shorty again adds his wise words this time over Barry Brown's killer 'Natty Roots'....

9. 3 WISEMEN IN DUB - I ROY

Another Johnny Clarke classic 'Let's have some fun' gets the I Roy treatment and dubbed
in fine style.

10. YU NUH HERE DUB - U BROWN

U Brown interweaves some wise words with a great dub version of Mr Clarke's 'Nice Time'

11. DUB CHALICE - PRINCE JAZZBO

A reggae standard originally cut by John Holt, but this is Johnny Clarke's version that
gets dubbed out with some fine DJ styling by the mighty Prince Jazzbo.

12. REBEL DUB SKANK - SHORTY THE PRESIDENT

The vocal talents of Ronnie Davis underline this cut with hisversion to the 'Sun is Shinning'
rhythm. Dubbed up bright.

13. DON'T TOUCH THE DUB - I ROY

Barrington Spence's 'Don't Touch I Dread' gets a little help by I Roy on this dub..nice...

14. HARD TIME DUB - U BROWN

Our second U Brown DJ cut works over Johnny Clarke's 'Age is Growing' the dub version
emphasizing what a great rhythm this track carries.....

15. DUB CHAT - DENNIS ALCAPONE*

The unmistakable Mr Dennis Alcapone gets a second outing on this release working
John Holt's 'I'm Yours' in Fine Style indeed.

16. BABY DUB - SHORTY THE PRESIDENT*

The great Shorty the President closes the CD version of this story working
Ronnie Davis' 'Baby Way' on this rolling dub workout .


•CD Bonus Track
Vinyl Track Listing


Side 1
1. RUB-A-DUB STYLE - SHORTY THE PRESIDENT
2. GORGON STYLE - U ROY
3. GREEDY GIRL - JAH STITCH
4. BABYLON DUB - DILLINGER
5. DUB DUNZA - U BROWN
6. STICK BY DUB - DENNIS ALCAPONE
7. DUB TO THE LONELY - PRINCE JAZZBO


Side 2

1. CONTROL DUB - SHORTY THE PRESIDENT

2. 3 WISEMEN IN DUB - I ROY
3. YU NUH HERE DUB - U BROWN
4. DUB CHALICE - PRINCE JAZZBO
5. REBEL DUB SKANK - SHORTY THE PRESIDENT
6. DON'T TOUCH THE DUB - I ROY
7. HARD TIME DUB - U BROWN


Musicians Include:

Carlton 'Santa' Davis, Carlton Barrett, &
Leroy 'Horse Mouth' Wallace: Drums
Robbie Shakespeare, Aston 'Family Man' Barrett,
George 'Fully' Fullwood, Lloyd Parks: Bass
Earl 'Chinna' Smith: Lead Guitar
Tony Chin, Winston 'Bo Beep': Rhythm Guitar
Ansel Collins: Piano
Bernard 'Touter' Harvey, Winston Wright: Organ
Bobby Ellis: Trumpet
Vin Gordon: Trombone
Tommy McCook: Tenor Saxophone
Lennox Brown: Alto Saxophone

Recorded At: King Tubby's, Randy's Studio 17 & Channel 1
Produced By: Bunny Lee
Design by: Gary @ Voodoo London
Photography: Jah Floyd Archive
Manufactured Under Licence from: E.Lee